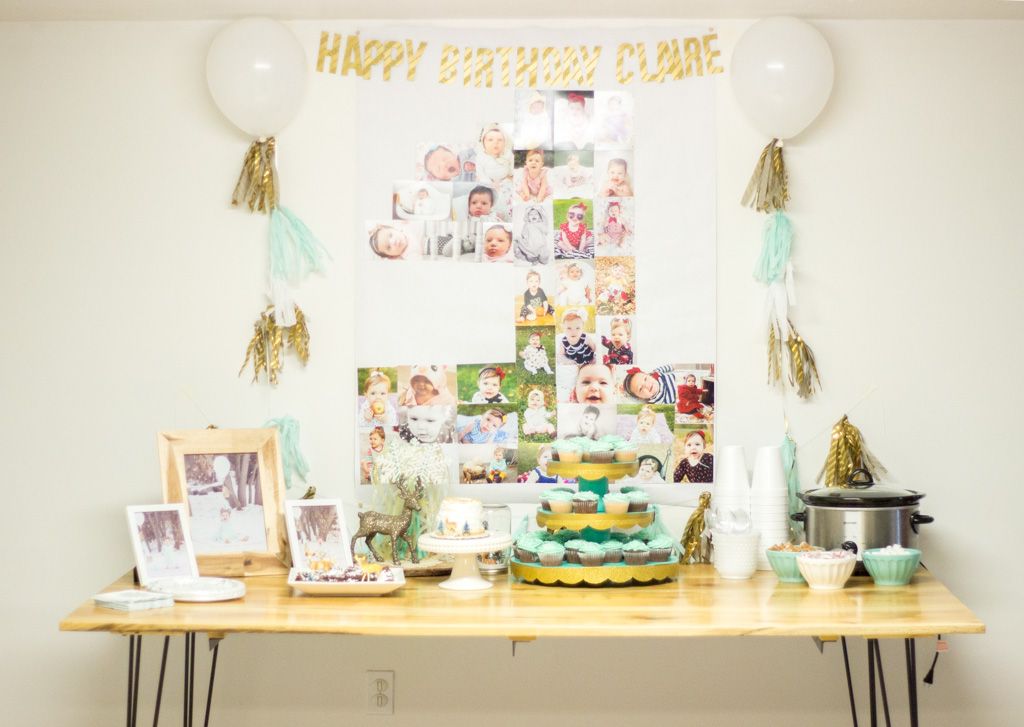 As everyone knows, yesterday was our sweet little Claire's 1st birthday. We had her party and celebrated her birthday with our families on Sunday evening, the day before her birthday. I went with a wintery woodland theme, mostly because I had a lot of decorations already that I could use with it, and I used white, mint & gold for the colors.
I originally just planned on giving Claire a cupcake but I saw the idea of baking some of the cupcake batter in a ramekin dish. I already had one and I thought it would be cute for her to have a little mini cake so when I made cupcakes I used some of the batter and baked her two little layers for a baby sized cake.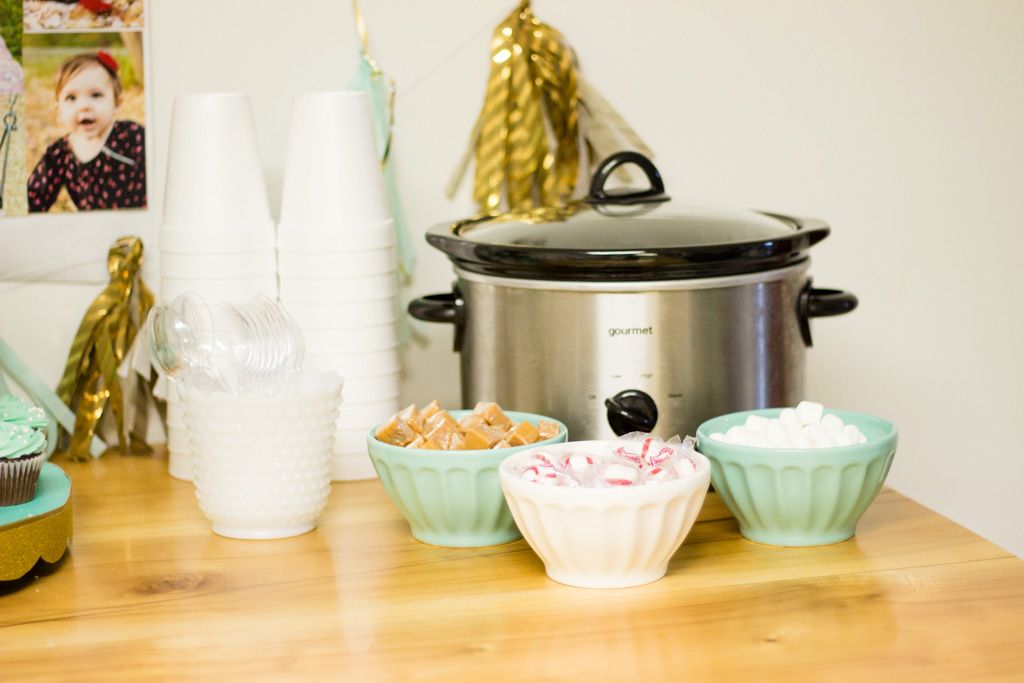 We kept the menu really simple and I made cupcakes and brownies. We also had a little hot chocolate bar and everyone could add their choice of mix-ins (carmel, peppermint, marshmallows, or coconut creamer).
For the decorations I displayed a lot of pictures of Claire; her monthly pictures, a bunch throughout the year formed into a giant one, and a few framed ones from her birthday photoshoot. I made the tassel garlands from tissue paper and I made the cupcake stand from cardboard, spray paint, and gold card stock. I also added a few miniature deer, pine trees, and snow globes to the table scape.
For party favors I made all of Claire's little cousins snowflake wands. They were a pretty big hit, although we had to make sure no one got wacked in the face once they started waving them around everywhere.
These are Claire's gifts from Bryce and I. I snapped a quick picture of them all wrapped in the doll pram before everyone got here.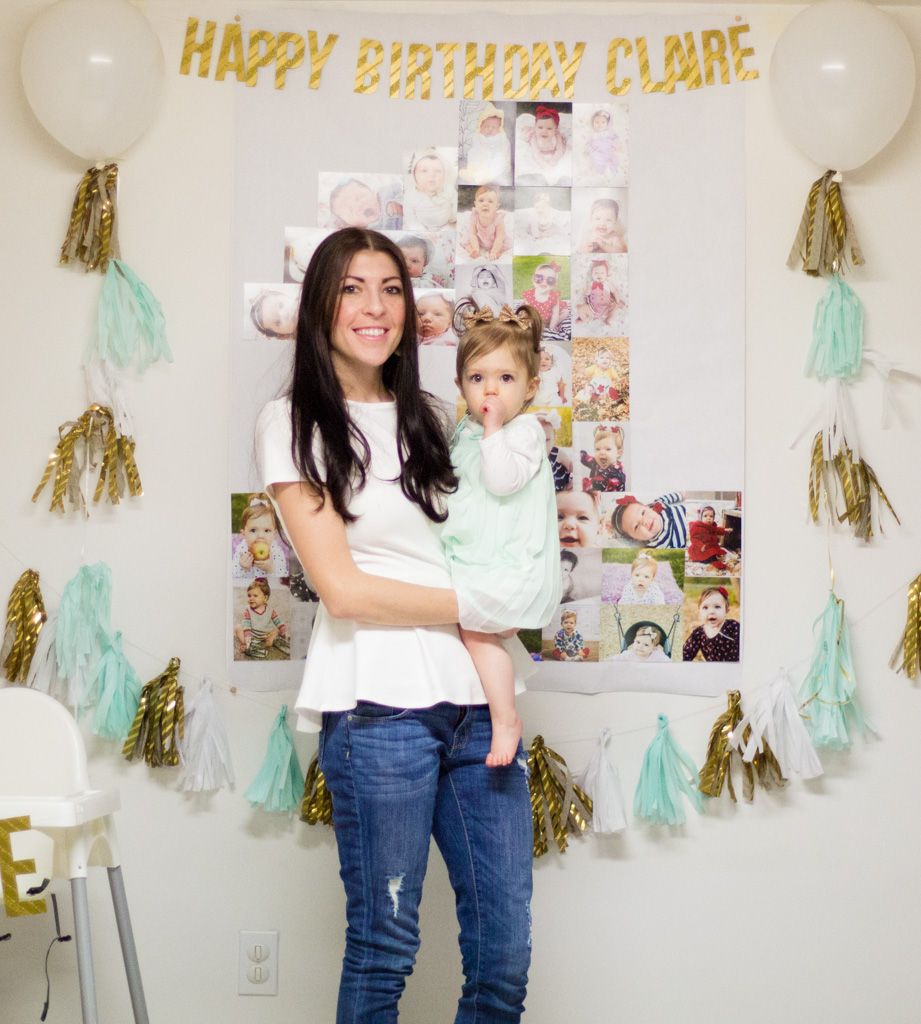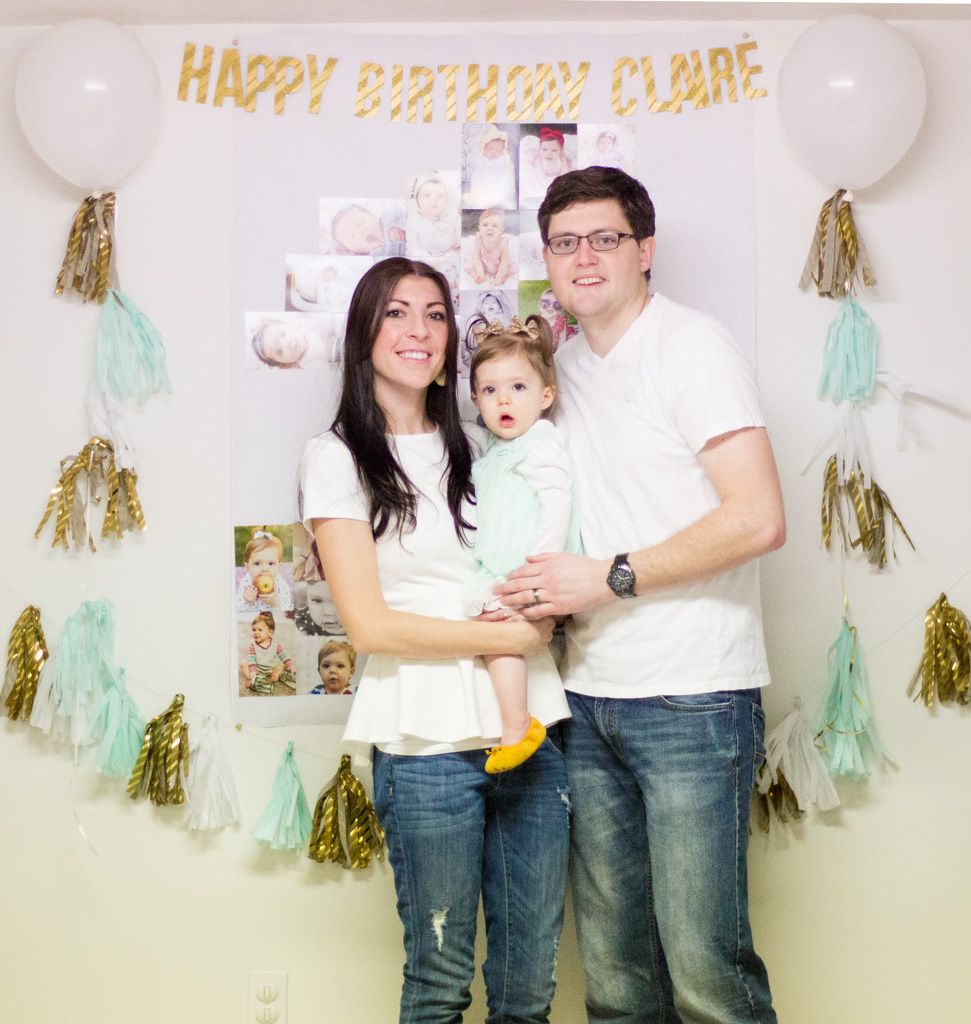 We snapped a few family pictures before everyone arrived at the party.
We invited just our immediate families; grandparents, parents, aunts & uncles, and cousins. I made a video of all of the pictures of Claire throughout the year that we had playing while we waited for everyone to arrive. Once everyone was there we passed around a notepad and had everyone write Claire a little note & a prediction of what they thought Claire would be when she grew up. We are going to save all the notes in a little time capsule and open it at her 18th birthday. While everyone was writing notes to Claire we helped her open up her presents!
Claire was given so many fun gifts! Her Great Grandpa & Grandma Richins gave her a minnie mouse push toy. Her Great Grandpa & Grandma Mecham gave her a tractor & farm animals which they said is supposed to be the grounds keeper for the castle she got for christmas ;). My mom & dad gave her two darling outfits and a cute lift the flap book (her favorite). Bryce's parents gave her the cutest wooden shape sorter and a book called Girls who Choose God. Bryce and I gave her a doll pram (that Bryce built), a doll that I sewed for her, a little basket of felt food, the book On the Night you Were Born, and her new birthday outfit.
After we finished opening gifts we sang Happy Birthday and then gave Claire her cake.
It was so cute to see her reaction to her cake. She tried biting it at first and then just kept eating little swipes of frosting.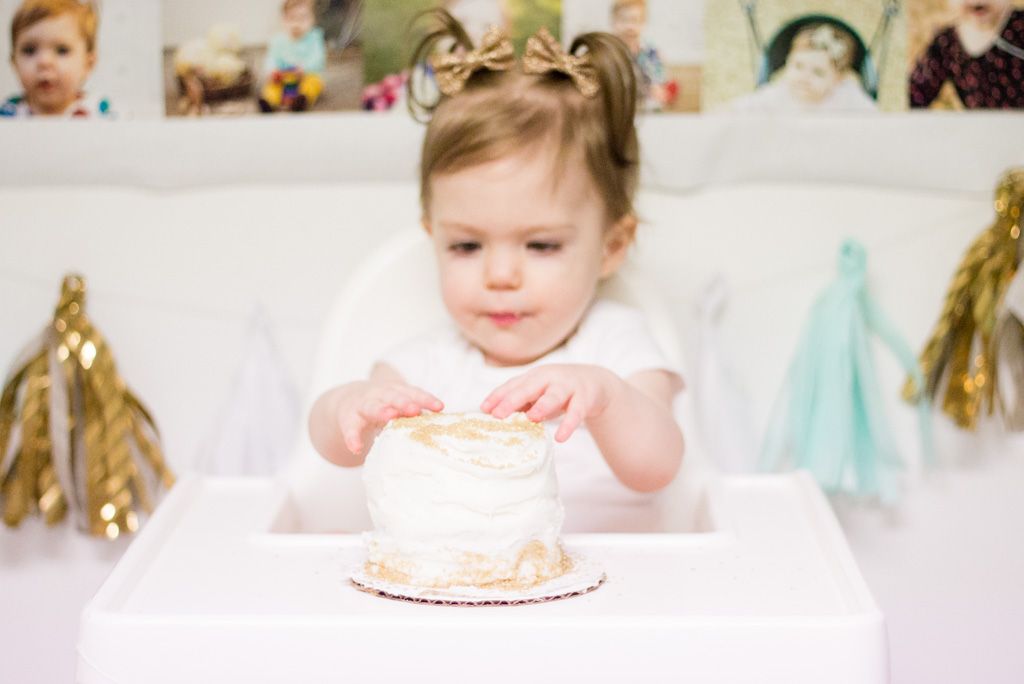 She didn't really ever dig into her cake. She was very dainty and careful about it, it was really cute. I took her dress off thinking she would get cake & frosting everywhere but she didn't even get a spec of it on her onesie. After Claire started on her cake everyone ate dessert and we visited and watched more of the video I made of Claire. It was a perfect little party. We had lots of fun and we were so glad to be able to celebrate Claire's birthday with all of our wonderful family.
Yesterday was Claire's actual birthday. When I heard her wake up I grabbed the camera before I went in to get her out of her crib and recorded a little video. Her birthday ended up falling on Martin Luther King Jr. day this year so Bryce didn't have school or work and was able to spend the whole day with us! We spent the morning playing with all of Claire's new toys and she got to wear one of her new birthday outfits from my mom & dad.
I didn't get a picture of Claire with all her gifts after they had been opened at her party so I took one in the morning while she was playing with them.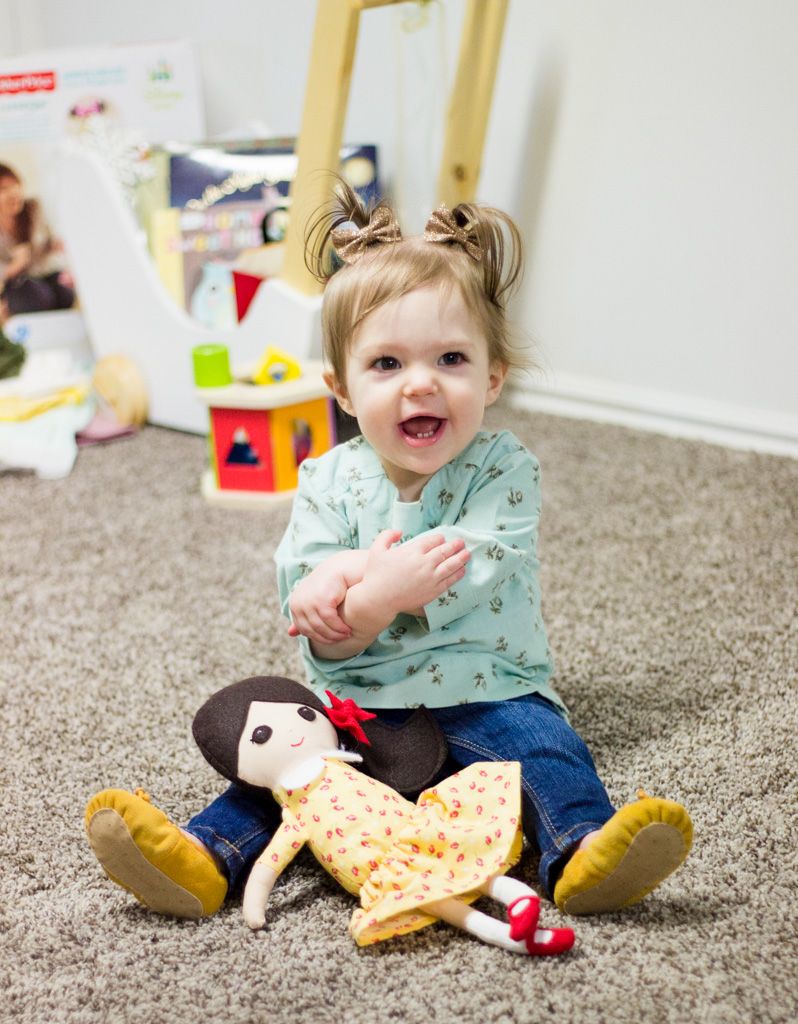 Claire with her new doll and my new favorite outfit of hers :).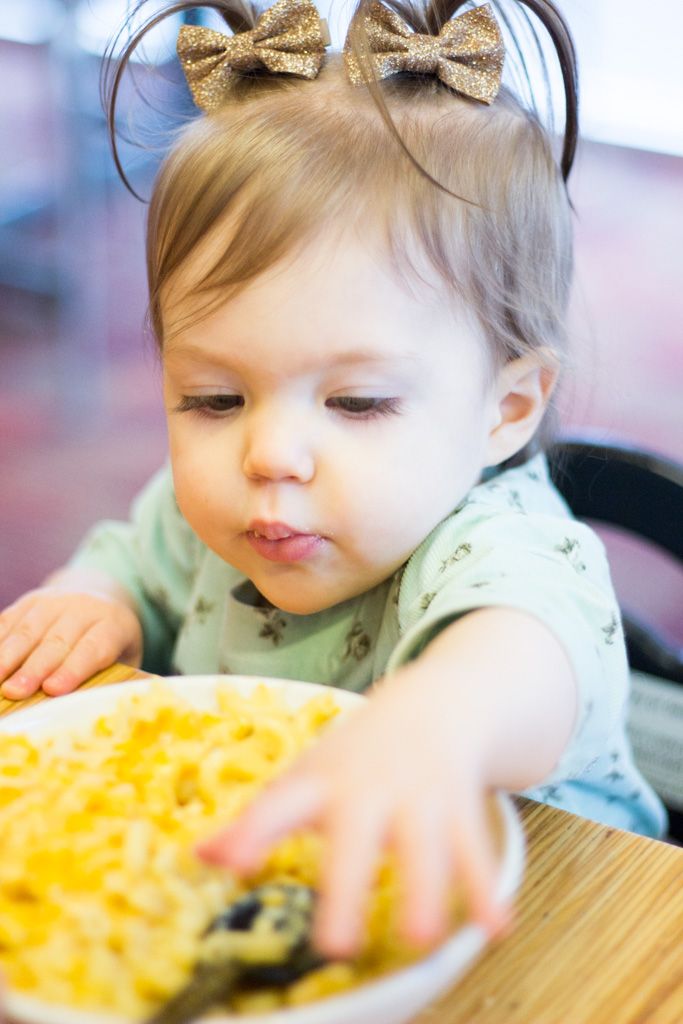 After Claire's afternoon nap we took her to target to see if there were any fun toys or something we could get her since we had a gift card to use up. We ended up not finding anything while we were there so I ordered something online, but we had fun trying out lots of stuff in the toy aisles. After Target we went to Noodles & Company for dinner. Since her favorite foods are macaroni & cheese and spaghetti, we thought it was fitting.
After we finished dinner we went home, gave Claire a bath, played with toys a little more, read a few bedtime stories and put our little birthday girl to bed. I'm so glad we got to prolong her birthday celebration and make it last two days instead of just one. I love this little girl more than anything in the world. Even though she won't be able to remember it, I think we made her 1st birthday a pretty special one!