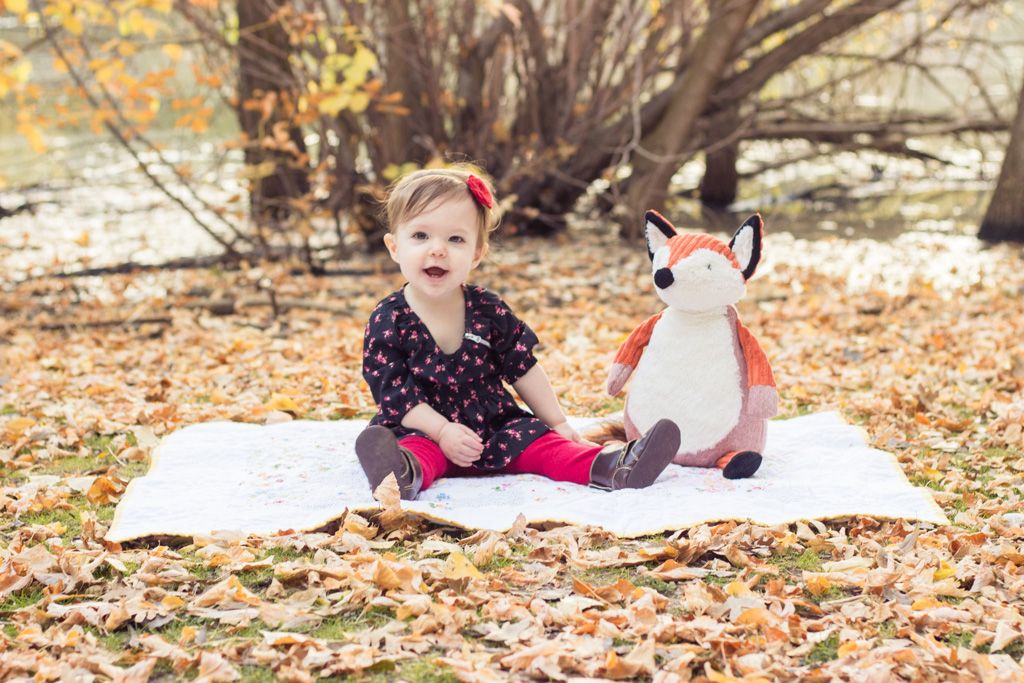 Dear Claire,
Today you are 9 months old. You have officially been alive on the outside as long as you were on the inside of my tummy. All I can say is that I wish my pregnancy would have gone by as quickly as the first 9 months of your life have.
Some exciting news is that today your third tooth finally cut through! You have been working on cutting your top two teeth for a few weeks now, and today your top left tooth finally cut through all the way! You haven't been napping very well lately, and you have woken up in the middle of the night a couple of times this past week, which you never do, so I'm pretty sure your teeth have been bugging you pretty badly.
Hopefully your other top tooth will cut through in the next day or two so you can start feeling a little better.
I think you are on the verge of walking. I don't know what I'll do when that happens, you already keep me busy enough crawling everywhere and getting into everything all day long. You love Rory's dog crate and you crawl in there at least once a day. You crawl to the furniture all over the house and pull yourself up so you can stand and walk. You really love to hold my fingers and walk around the house with me. You get so excited and you smile and squeal happily the whole time. We borrowed a walker toy from one of your cousins and this past week you started pulling yourself up to it, and pushing it around the house all by yourself.
You are down to taking two naps a day. Since we cut your third nap you have started going to bed around 6:30 now and sleep until about 6 am. You sleep best in your crib, and you are very attached to your baby quilt that I made for you. You love to clutch it in your hands and cuddle it by your face as you go to sleep. It is so sweet to watch.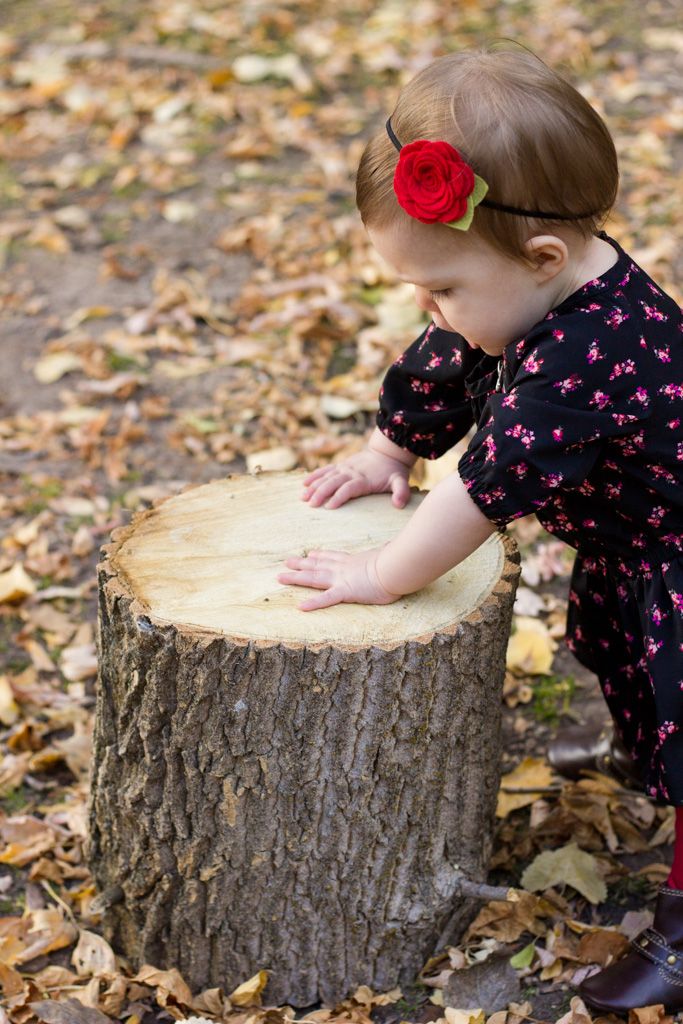 You are a good little eater still, but a couple weeks ago you broke out into a rash around your mouth. I took you to your pediatrician and he was pretty certain it was a food allergy/sensitity, so we had to cut out a lot of foods and go back to really basic foods until we figure out what is causing it. I think it is either dairy, or really acidic fruits. Your rash is almost all the way gone, and as soon as it is I'll reintroduce some of those foods and see if anything causes it to come back.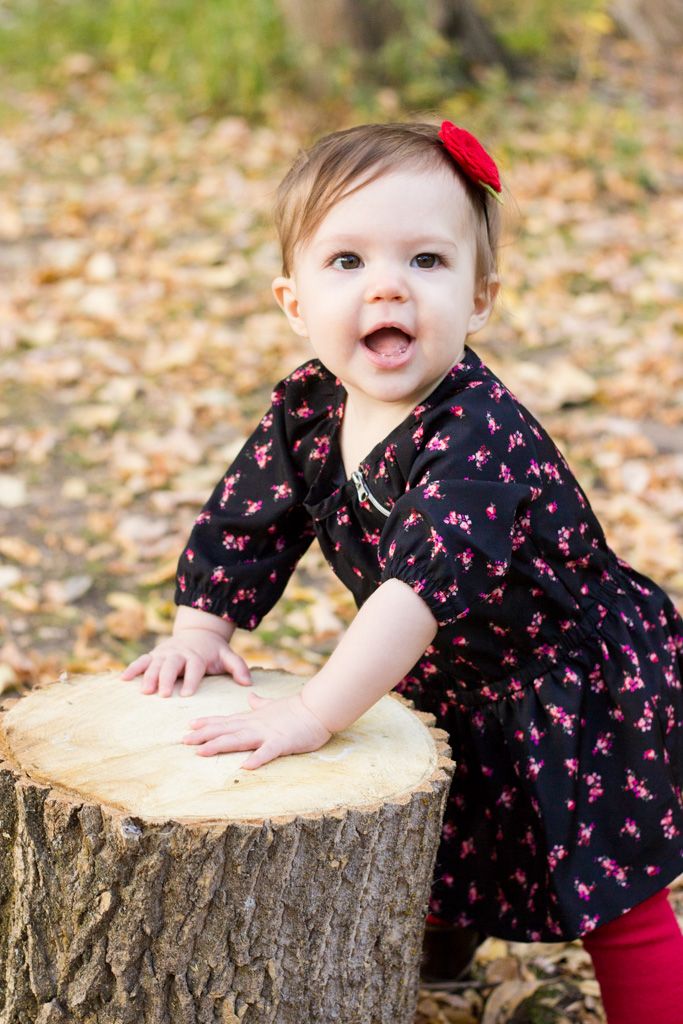 You can do a few little tricks on command. You shake your head no, clap your hands, and give "kisses" (open-mouthed slobbery ones). You've started to try and copy things that we do now, like blowing raspberries with your lips, nodding your head, and you do this little yell thing at Rory after she barks trying to copy her. Every time I get you out of your crib I always greet you really happily in my mommy voice and say "Hi". You've started doing it back to me when I come into a room and you see me. This one is pretty new so I'm not sure how intentional it is from you, but it seriously sounds just like you are saying hi to me. I love it so much!
You went to your first costume party last weekend. You were definitely the star of the show. Your dad and I went with a bunch of other couples, and we were the only ones with a baby. Everyone thought you were pretty adorable. You got to try out your Halloween costume and you looked so cute! I can't wait for everyone else to see you on Halloween when we take you trick-or-treating.
We had your nine month check up and you weigh 17 lb 2 oz, and are about 28.5 inches tall. You are still a little skinny thing! You are in the 32nd percentile for weight and 79th percentile for height. Your doctor said you are just built like your mom and since you crawled super early and started pulling yourself up to stand early you are burning more calories than most babies your age.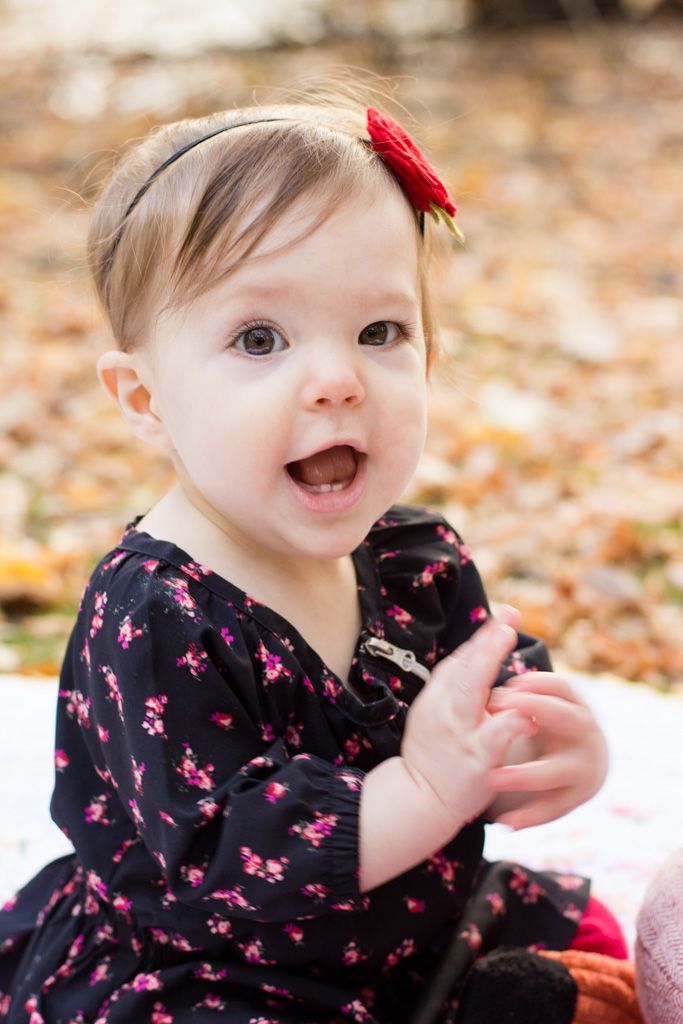 October is my favorite month of the year and I have been having so much fun sharing it with you this year. We've gone on lots of walks and looked at all the pretty leaves, baked and shared yummy pumpkin chocolate chip cookies (which you love!), made a few trips to Beus pond, and watched some fun Halloween movies. I'm planning on taking you to the library this week to check out a big stack of Halloween books to read before the the holiday is over and we're going to try to go to a corn maze/pumpkin patch with you. I am also excited you get to celebrate my 25th birthday with me on Halloween. This has, by far, been my most favorite year yet. Getting to be your mother is the best gift I could ever ask for.
I love you too much sweet girl!
Love,
Mom