Dear Claire,
Today you turned three months old. I can't believe I'm the mother of a three month old! It breaks my heart a little that you are already getting so big. You have grown and changed quite a bit over the past month. You still have tons of hair. I think you actually have more now than when you were born. Your hair is probably what people comment on the most. Everyone thinks it's darling and can't believe how much of it you have.
You love to coo and make noises all the time, especially when me or your dad talk to you. You can recognize my voice and you turn to look for me in the room when I'm talking. You smile all the time, and I absolutely love it. Your whole face lights up and you just look so happy!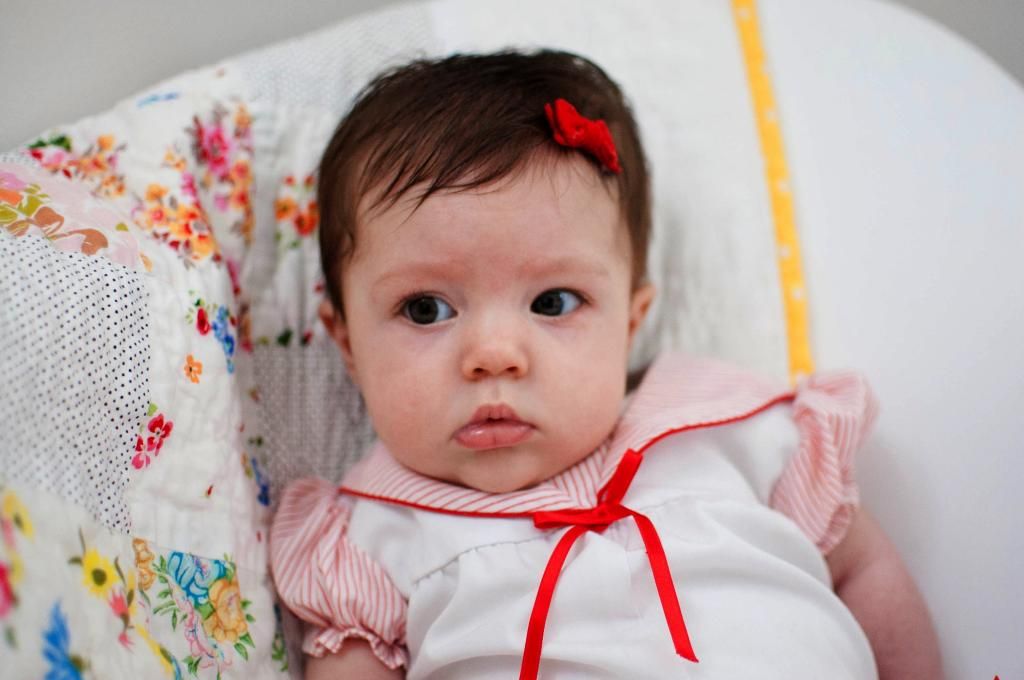 You've gotten much better at holding your head up and now you hold your chest and head up with your arms when you are on your tummy. You kick your legs and pump your arms whenever you lay on your back and we talk to you. You get super excited and squeal and wiggle. You especially love to do this in the bath.
This past week we passed a milestone I was really dreading. You had your first cold. I've been so nervous about you getting sick, but luckily your cold was really mild. You were a little congested at the beginning of the week and then Wednesday you and I both woke up with really stuffy noses. Your nose was pretty stuffy and you had a rough time sleeping for a few days but by Friday you seemed to be on the mend. I finally got you back on your schedule today, probably just in time for you to hit your three month growth spurt....and then I'll have to start all over again :). But that's okay, we're getting really good at working that stuff out together.
I hope when you read these letters one day you will be able to tell how much I love you.
You are the sweetest little girl and I'm so happy I get to be your mom.
Every day I spend with you my heart is filled with more love, and I don't know how that's possible.
I should probably end this letter and get some sleep. Tomorrow is your first Easter! I can't wait for you to wear the little Easter dress I made for you. I'm so excited. Holidays are so much more fun with you.
I love you sweet girl!
Love,
Mom