I'm a few days late posting Rory's weekly update, but I'm finally getting around to it! She is now 51 weeks old. In the picture above Rory is laying in one of her "spots". She likes to have a clear view of the door but then she likes to turn her head backwards and watch me and Claire.
Whenever I lay Claire on a blanket on the floor Rory has to come cuddle up next to her. It's really sweet. I love seeing her pay more attention to Claire. I think this is the beginning of a long friendship.
Rory really likes the quilt Claire is laying on from Great-Grandma Mecham. After Claire got tired I took her in to the nursery to rock and lay her down in her crib. When I came back Rory had sprawled out on the quilt trying to stake her claim. She looked so comfy. I had a hard time kicking her off!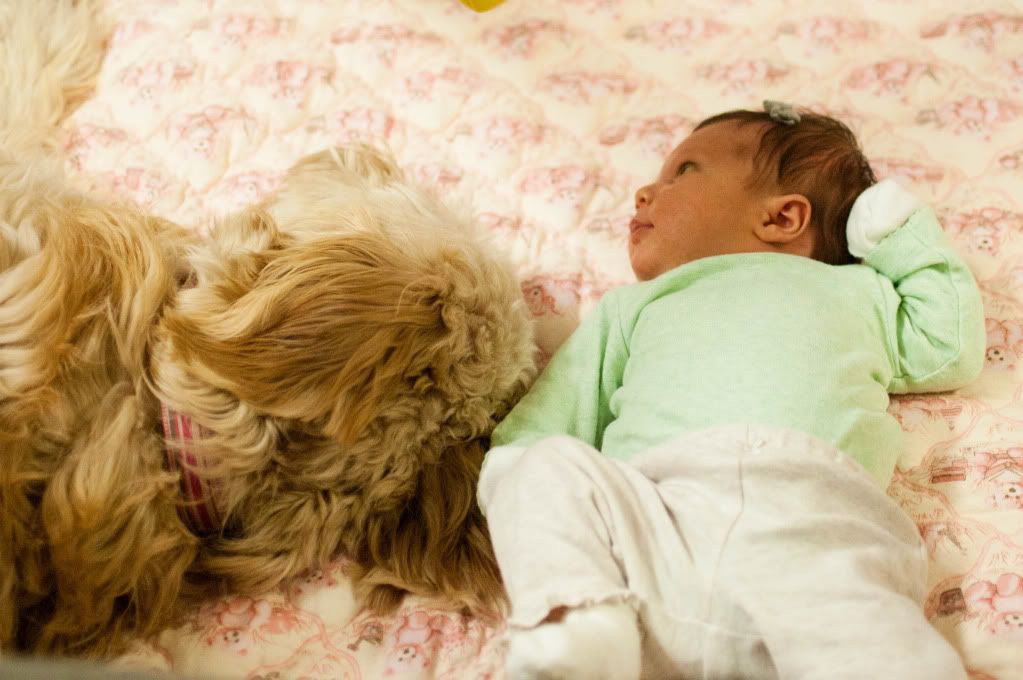 Rory is still the same size. She hasn't grown in a few months, so she is done growing at this point. She is very obedient and has matured so much now that she's almost a year old. She loves cuddling an napping with me, and then loves to play with Bryce. When Bryce gets home from school or work Rory won't leave him alone for at least an hour. She will keep bugging him and make sure she gets her play time in. I can't believe Rory will be one year old in exactly a week! My little puppy is all grown up :(, which is a bittersweet thing. I miss how cute and tiny she was but I don't miss the peeing, biting, jumping, and hyperness from the puppy stage. It feels like a big accomplishment to reach her year mark and see how far she has come in her training. It took an extreme amount of patience and diligence, but it was oh so worth it!