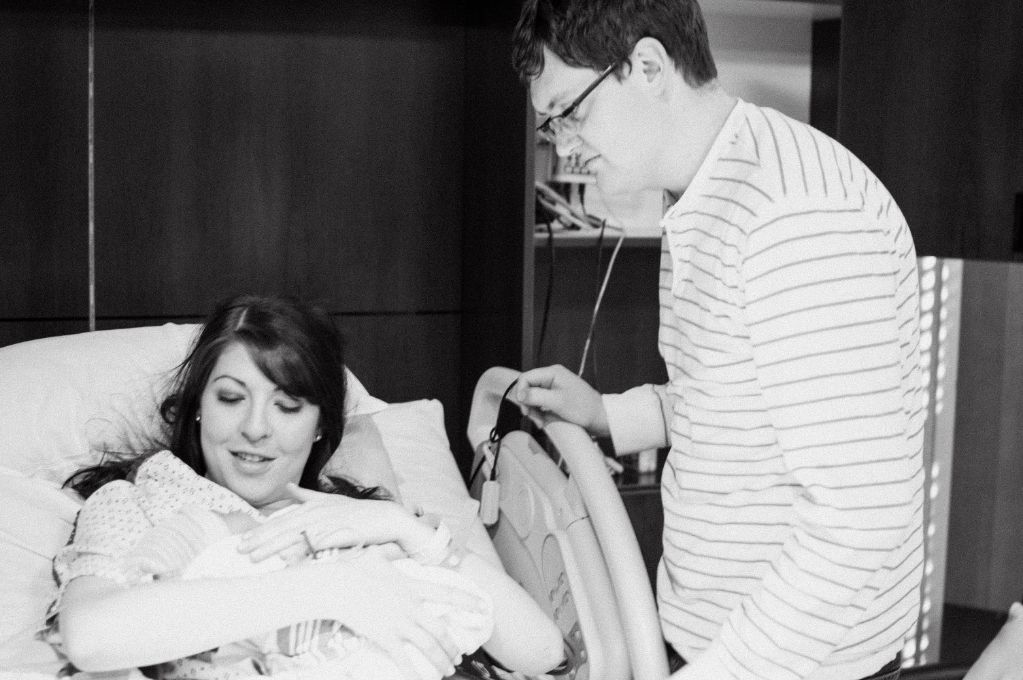 Claire was born on a clear beautiful Sunday afternoon, exactly on her due date on the 19th of January. At my last doctor's appointment Bryce and I decided to go ahead and schedule an induction on my due date. I was still dilated at a 3 and 80% effaced but was no longer having contractions or having any other signs of labor. We talked with my doctor and decided getting induced was the right decision for us. Both my mom and sister had to be given pitocin after they went in to labor on their own to help their contractions regulate , so there was a high likelihood I would be given pitocin anyway even if I waited to go on my own. We decided there really wasn't any good reason to wait, we were ready to finally have our baby!
The night before the induction I did not sleep at all. I was too excited, nervous, and anxious anticipating my baby's arrival. Bryce only slept for a few hours as well since I made him stay up with me and watch movies. We arrived at the hospital at 5:30 a.m. It was dark and very cold outside but I barely noticed. I was so nervous and excited I couldn't sit still. The whole car ride there I was jiggling my feet and tapping my fingers on my legs. We parked the car and walked in holding hands. I gave Bryce's hand a little squeeze and excitedly said, "This is it! Today we are meeting our little girl!" He smiled back at me and laughed at how excited I was.
We filled out all of our paperwork and a nurse took us back to my room. I got all settled in my hospital bed and was started on pitocin at 6 a.m. Bryce went back to sleep on the couch in my room and I laid in bed trying to picture what my baby would look like. My contractions were very mild and I couldn't really feel them yet. Around 7 a.m. the doctor doing rounds came and broke my water. Only about 30 minutes after this my contractions had really picked up. They were getting closer together and much more intense. The nurse had told me earlier it would take about 30 minutes from the time I asked for an epidural for it to be administered and working so to keep that in mind when I started feeling pain. When my contractions were only a couple minutes apart and I had to start focus on breathing through them I decided to call the nurse and ask for my epidural.
The anesthesiologist and nurse came to my room and started setting everything up. By this point I was having contractions every two minutes. I kept squeezing Bryce's hand through the contractions and my body had started shaking. The anesthesiologist had to administer the epidural during contractions and while I was shaking, which I think could have been why I had complications with it hitting some nerves. The epidural kicked in pretty quickly, but only on my right side. We waited a few minutes to give it time to kick in but it still wasn't working. I was feeling everything on my left side. The anesthesiologist gave me another dose and after a few more minutes I was finally numb on both sides. It was such a relief to be able to finally relax and get some rest. It was now around 8:30 a.m. My nurse decided to check me and said I was dilated about a four and still 80% effaced. We expected we still had several more hours and planned on a baby in the late afternoon or evening. I text my mom the update as she was planning on coming to the hospital when I was getting close and then Bryce and I both were able to fall asleep.
A couple hours later my nurse came back in to see how I had progressed. I was now dilated to a six and 100% effaced. I sent another text to mom and she told me she was planning on coming down around 12 with my grandma (my dad unfortunately was out of town for work). Bryce was still asleep and I continued to doze on and off over the next two hours. My mom and grandma arrived and came to see me and Bryce for a little bit before they were going to lunch. I had started feeling shaky again at this point and mentioned it to my nurse when she came in to check me again. She looked surprised as I told her and said that usually meant you were complete and fully dilated. She checked me and was even more surprised as she announced that I was actually fully dilated and ready to start pushing. She left to go get some of the equipment to set up and to call my doctor to let him know. We told my mom and grandma and they decided they would go get some lunch to kill some time. I figured since it was my first I would probably have to push for a while and we still had to wait for my doctor to get there. It was around 12:30 now and I was trying to wrap my head around the fact that my baby was going to be here so soon! I wasn't feeling mentally prepared yet as I thought I still had 4 to 5 more hours.
My nurse came back in, got the equipment set up, and said my doctor wanted me to go ahead and start pushing. She would tell me when I had a contraction and had me push for 10 seconds at a time, 3 times during each contraction. After the first push the baby was already crowning. She excitedly told me and showed Bryce that our little girl had a full head of hair. I pushed a total of 3 times and then the nurse stopped me and said we needed to wait for my doctor since she did not want to deliver my baby on her own! The nurse called my doctor again and told him I was really ready. He was surprised as well as he thought I may have to push for a while being a first time mom. He said he was on his way and then we just waited. I was feeling such a mix of emotions I was scared, nervous, excited, happy, and filled with so much love. I remember thinking I was really going to be a mom and I felt like my heart was going to burst. I had wanted this for so long and I was just minutes away from it finally happening.
My doctor arrived a few minutes before one o clock. He was just about to teach a lesson and had left church so he was in a white shirt and tie. He teased us and said he dressed up just for our delivery. He was quickly scrubbed up and sat down in position to deliver my baby. He said, "Okay let's have you push on the next contraction." The next contraction came and I could feel the baby crowning more. I pushed for 10 seconds, then took a breath, and repeated two more times in a row during the contraction. The doctor smiled and said, "How about a baby on the next contraction?" I kind of laughed thinking he was joking and just trying to motivate me for the next set of pushing. The next contraction started but the doctor didn't tell me to push. He just all of the sudden worked her head out and then her body came out immediately after. My sweet baby was born at 1:05 p.m. He set her on my stomach and prepared the umbilical cord for cutting. I was so shocked and completely surprised as I looked at her laying on me. I could not believe the delivery was over and she really was here. I was so amazed at my tiny little girl. Even though the nurse had told me earlier, I was still so surprised to see she was born with a full head of long dark hair. She was so beautiful I just kept staring at her. Bryce cut the cord and they took her to measure her and clean her up. The announced she was 7 pounds 6 ounces and 19 1/2 inches long. I watched her like a hawk as she was passed around the room getting measured and cleaned while the doctor finished stitching me up. It was all I could do to sit there and wait to hold her. Bryce put on her first diaper, which was actually the very first diaper he has ever put on a baby. I held back tears as I watched my husband become a dad. It was such a special moment. He had the biggest smile on his face and was so careful and gentle with her tiny body. The nurses swaddled her and gave her back to Bryce. The doctor was finally finished with me and the nurses and everyone were clearing out the room. Bryce brought her over to me and placed her in my arms. I was so amazed at how perfect she was. I just kept smiling and looking at her thinking how incredible it was that she was my daughter. I couldn't hold it in anymore and finally tears streamed down my face. I had an overwhelming feeling that we already knew each other. She was mine and I was hers. I knew this was what I was meant to do. I had finally found my place. I felt like the moment she was born and I became a mother, I was born too.
*On a side note one of my nurses who was actually my second cousin took all of these pictures for us and I am SO SO grateful. I was planning on having Bryce take some and then have my mom take a few of us when she got there, but this worked out so much better. It was so thoughtful and sweet of my nurse and the pictures turned out beautifully. They are something I will always treasure and I love that we have them to remember this special day.

*